Products Information
NanoAnalytics Q-Control System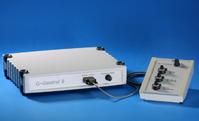 NanoAnalytics Q-Control System
Description
Marvelous Increase of Cantilever Q-factor
either in Air or Lliquid.
Description
The innovative system that increases the effective qality factor of the oscillating cantilever in dynamic or non-contact scanning in air or under liquid. The ideal system for microscopy of soft samples, NFM and EFM.

Features
NanoAnalytics Q-Control can be mounted on the standard microscopes(BNC cable/D-Sub 37pin).

Frequency
Q-Control I: 95-500kHz
Q-Control II: 20-500kHz
Q-Control III: 6-500kHz

Related Website
NanoAnalytics URL:http://www.nanoanalytics.com
Inquiry
Advanced Materials Dept.
19F Osaki Bright Core,
5-15, Kitashinagawa 5-chome, Shinagawa-ku, Tokyo 141-0001, Japan
TEL:(3)3442-5142 FAX:(3)3442-5175