Strengths of
machinery and
equipment business
Strengths of machinery and equipment business
Strengths of machinery and equipment business
Leading company in decanter type centrifugal separators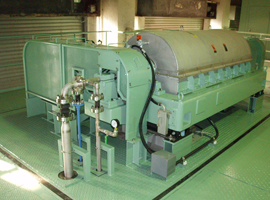 Tomoe Engineering is a leading manufacturer of decanter type centrifugal separators in Japan. We have developed and delivered centrifugal separators for the petrochemical and other industries and supported the high economic growth of Japan. Since our foundation in 1941, Tomoe Engineering has accumulated technology backed by long years of experience and been actively committed to the development of products for various next-generation industries.
Experience in treatment of more than 1500 kinds of substances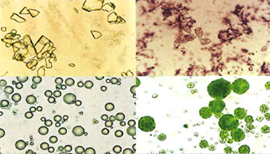 Tomoe Engineering strives to improve the performance of centrifugal separators through our abundant experience in the separation of more than 1500 kinds of substances. We offer a line of products capable of separating substances of all grain sizes, from large to fine, gradually with high accuracy. Tomoe Engineering assists customers in resolving problems by proposing solutions to the separation of various kinds of substances.
Many centrifugal separators delivered in Japan and overseas
Tomoe Engineering has developed the vertical decanter, which is the largest centrifugal separator in the chemical industry worldwide, and we also deliver centrifugal separators for a wide range of industrial fields, including food, steel and mining, energy, paper and pulp, biology, sewage treatment, night soil treatment, and garbage disposal. Our sales, engineering, and manufacturing departments work as one to offer appliances that comply with environmental standards or required specifications of customers' facilities in Japan and overseas.
Secure service and maintenance system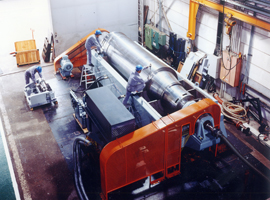 Tomoe Engineering's service system consists of its high-technology factories and group companies to help our customers' industrial facilities to constantly achieve full function and performance. This service system provides services required for optimum operation and maintenance, from installation work, regular inspection, repair, and improvement work of centrifugal separators and incidental appliances to operation and maintenance of sewage treatment facilities.
Full line of decanters
Kind
Model name
Features
Application
Dehydrator
PTM
Standard type, wear resistance
Inorganic system
TSM
Low price
Drainage
HED
Low electric power consumption, high performance
Drainage
TRV
High temperature, pressure resistance
Petrochemistry, solvents
FMD
Sanitary
Food
TRH
High conveyor rigidity
Resins
DSG
High wear resistance
For plaster dehydration
MND
For ships
Ship fuels
OFM
High wear resistance, rigidity
Muddy water
Concentrator
BDN
Standard type
Concentration of drainage
BDF
Trace chemical feeding type
Concentration of drainage
TBD
Low price
Concentration of drainage
Horizontal decanter compatible with a wide variety of applications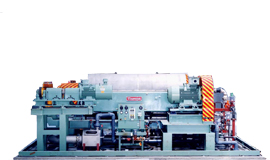 Horizontal decanter compatible with a wide variety of applications
This decanter is capable of continuously separating substances and ensuring stable performance for a long period. It is also easy to operate and can be operated unattended. It has realized significant cost effectiveness and cost reduction. Designed to save space, this decanter requires less installation space. It is used mainly for separation of liquid-liquid mixtures, including separation and dehydration of solid matter, purification and separation of liquid, and classification of solid matters for solid-liquid mixtures, and it ensures the efficient treatment of any kind of substance.
Track record
Water and sludge treatment, food and animal feed, pharmaceuticals, chemistry, recycling, energy, steel making, biology, civil engineering/architecture, etc.
Vertical decanter type centrifugal separator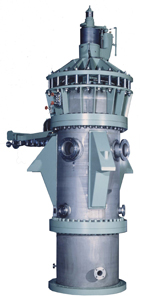 This vertical decanter offers distinguished separation performance of organic solvents, even in high-temperature, high-pressure environments.
Its vertical structure, which uses a mechanical seal, ensures thorough hermeticity. In addition, its pressure-resistant structure allows it to separate substances even under high pressure. Requiring less installation space is another advantage of the vertical decanter type centrifugal separator. It is designed to perform efficient separation even under severe conditions and can demonstrate outstanding performance in the deliquoring of resins, solid-liquid separation of slurry containing organic solvents, collection of catalysts, coal liquefaction, and solid-liquid separation of heavy oils, waste plastics, and the like at high temperatures and high pressures in chemical factories. We also offer the HT type centrifugal separator, which is capable of performing treatment at high temperatures up to 400°C.
Track record
Terephthalic acid, polypropylene, polyethylene, polyacetal, catalysts, protein, etc.
Profile of Tomoe Engineering's factory and technical center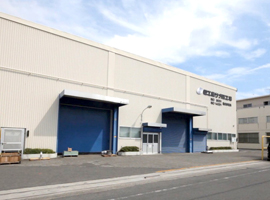 Sagami Factory
Located in the city of Yamato in Kanagawa Prefecture, the Sagami Factory is Tomoe Engineering's main factory producing centrifugal separators. The Sagami Factory started operation in 1969, and large-scale modifications were completed in 2014. It employs about 150 people.
Manufacturing department

The manufacturing department manufactures centrifugal separators. It carries out a variety of processes from the machining of materials on lathes and balancing machine to the assembly and completion of centrifugal separators.
Production control department

The production control department undertakes material procurement and process control. The procured materials are placed under control in a warehouse and delivered according to the production schedule. The production control department controls all manufacturing processes to ensure that materials are delivered on the specified delivery dates.
Inspection department

The inspection department performs inspections of assembled products. In order to deliver products that are in perfect condition, assembled product inspections and other inspections are performed in the company's inspection area. The inspection department is also responsible for performing inspections using coordinate measuring machines or the like to ensure that there are no problems with the quality of delivered parts.
Design and development department

The design and development department is in charge of the design and development of all machines and electric instrumentation systems relating to centrifugal separators.
Technical center

Tomoe Engineering has a technical center on the premises of the Sagami Factory located in the city of Yamato, Kanagawa Prefecture.
The technical center performs liquid feeding experiments using actual liquids obtained from customers as well as sample analyses and experiments.
We select the optimum machine for the intended application in the presence of each customer.
We select and propose an appropriate models based on the results of experiments performed here.
Customers who desire tests can apply for them by filling in an application form.
After-sales service bases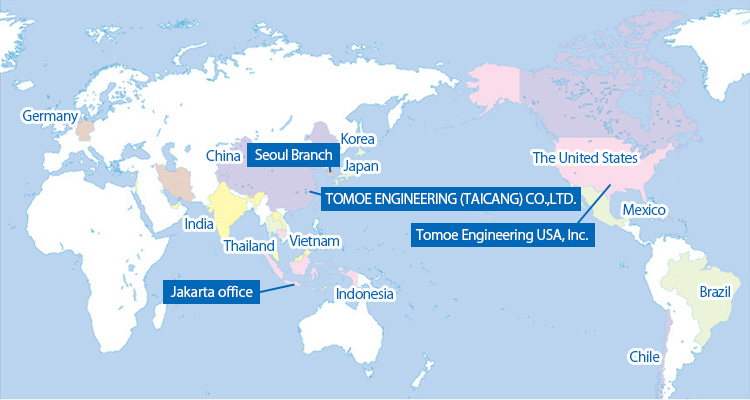 Overseas bases
Maintenance area
Maintenance area
Branch offices, sales offices
Seoul Branch MAP
Korea
Jakarta office MAP
Indonesia
Affiliated companies
TOMOE ENGINEERING (TAICANG) CO.,LTD.MAP
China
Tomoe Engineering USA, Inc.MAP
The United States
The machinery and equipment business provides after-sales services through sales agents in South Korea, Indonesia, the U.S., Canada, Mexico, Thailand, India, Iran, Taiwan, Vietnam, China, Brazil, Chile, and Germany.