Products Information
Kason Centri-SIFTER
Kason Centri-SIFTER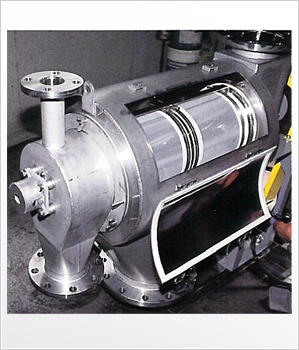 The Centri-SIFTER is a centrifugal type non-vibrating sifter.
It is capable of economically and efficiently sifting powder, granules, and substances that are likely to agglomerate. It is best suited for sifting of fine powder and for applications of powder of low specific gravity in particular. The thoroughly hermetic structure is sanitary and prevents leakage of treated substances. It can also maintain the cleanliness of the installation site environment. Since the structure is simple, the screen can be replaced quickly and the Centri-SIFTER is easy to maintain.
Application
Chemistry
Food
Dairy products
Pharmaceutical
Various animal feed
Biological Chemistry
Plastic
Features
High sifting accuracy can be achieved by screening with high centrifugal force.
The Centri-SIFTER can operate quietly, with little vibration or noise.
During operation, the Centri-SIFTER keeps powder in and ensures sanitation.

Every possible measure is adopted to prevent the screen from clogging.

Clogging prevention device

1.Nylon brush method
2.Wiper-brush method
3.Airbrush system

The screen can be replaced quickly, and the Centri-SIFTER is easy to maintain.
The Centri-SIFTER requires little installation space and saves energy.
The Centri-SIFTER is simple in structure and easy to disassemble and clean.
Inquiries about machinery and equipment business
Overseas Sales Business

(3)3442-5157