Products Information
Kason VIBROSCREEN
Kason VIBROSCREEN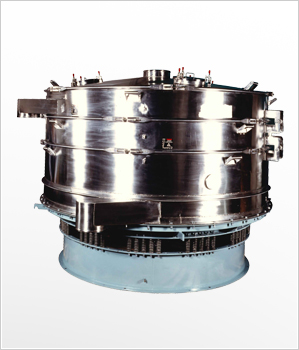 Four screening modes can be selected depending on the application, so substances can be separated and sifted in either a dry or wet process.
Kason VIBROSCREEN uses a special bilateral vibration motor. Kason VIBROSCREEEN is a high-function, high-efficiency screen designed to separate and sift substances to be treated with three-dimensional, multiple-mode vibration consisting of tangential motion, which means that the substances are conveyed from the center of the horizontal and vertical screens to the outer area.
Kason VIBROSCREEEN demonstrates full performance in dry and wet processes alike, and has a good reputation in a variety of fields.
Application
Chemical,Resin
Ceramics
Metal,Mining
Food
Drainage,Waste
Features
An unbalanced weight is mounted on the top and bottom of the special bilateral vibration motor, and as the motor runs, the section above the motor support table moves three-dimensionally.
The pattern of the particle flow on the screen can be changed by adjusting the phase angle of the unbalanced weights (top and bottom weights) mounted on the motor.
The vibration of the upper part of the machine is absorbed by the support spring, and is hardly conducted to the base.
The number of stages of the screen ranges from one to five, and it is capable of efficiently separating particles in up to six particle sizes.
Clogging is prevented by a clogging prevention device, such as a tapping ball system or clean screening system.
Particles as small as 25 μm can be sifted by applying vibration to the surface of the screen with the aid of an ultrasonic generator, which is designed to freely change the vibration strength.
This ultrasonic generator can also be easily attached to existing machines and is very economical.
Inquiries about machinery and equipment business
Overseas Sales Business

(3)3442-5157