Products Information
Continuous High-Speed Carbonizing System
Continuous High-Speed Carbonizing System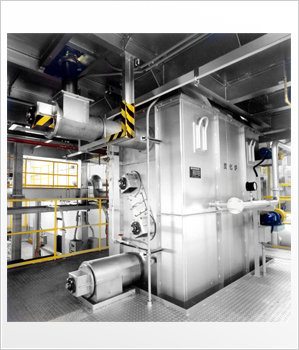 Carbonization furnace equipment is a system that consists of a "conductive heat transfer dryer" and a "screw carbonization furnace" and efficiently transforms organic sludge, such as sewage sludge, into carbides or other resources.
Application
Sewage treatment (Recycling of sludge, etc.)
Features
Its exhaust heat recovery mechanism contributes to the transformation of sludge into a resource while considerably reducing fuel costs and CO2 emissions.
Conductive heat transfer dryer

The heating medium flows into the multitubular heating tube and dries the dehydrated sludge as the heating medium rotates.
Sludge can be efficiently dried because the exhaust heat loss is small and the heat transfer area is large.

Screw carbonization furnace

Dry sludge can be efficiently carbonized.
Indirect heating system with high operabaility.
Sludge can be carbonized according to the application of the product under different conditions, from high to low-temperature carbonization.
Inquiries about machinery and equipment business
Overseas Sales Business

(3)3442-5157