Products Information
Disc Type Centrifuge
Disc Type Centrifuge
Centrifuge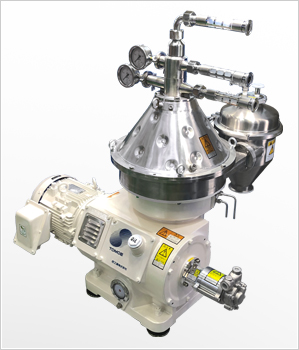 Sanitary designed for food and drinking industry, realizing high efficient separation through high centrifugal force and wide centrifugal settling area.
Application
Separating and clarifying extract
Refining animal and vegetable oil
Food(processing surimi, beer and soybean milk)
Concentrating fermented food
Processing fine chemicals
Features
Tomoe's disc type centrifuge has higher centrifugal force and wider settling area than those of conventional type of same size. Automatic control system with various sensors can achieve continuous unmanned operation of 24 hours. Since Tomoe conducts basic studies and development at its R&D facilities in Japan, we can respond your requirements timely by providing customized design with flexible manner.
Separable to solid-liquid, liquid-liquid or solid-liquid-liquid

Tomoe will support your process of problem solving through years of experience.

Available customized machines fit for customers' requirements

Tomoe's R&D can accommodate customers' various requirements.

Adopted dimple structure to jacket (Design Patent US D895,699 S)

Lighter and simpler structure makes easier maintenance and more efficient for cooling function.

Convertible total- to/from partial-discharge

The convertible system can realize both yield improvement of light-phase liquid and avoiding solid blockade.

Sanitary designed for applying SIP/CIP

Closed operation is possible with double mechanical seals at shaft.
Inquiries about machinery and equipment business
Overseas Sales Business

(3)3442-5157