Products Information
HED Type dewatering centrifuge
HED Type dewatering centrifuge
Centrifuge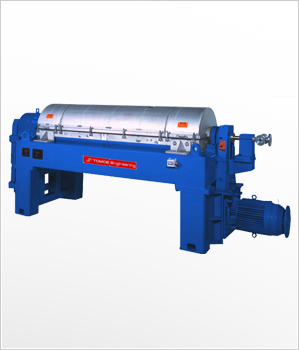 The HED type dewatering centrifuge saves energy and space, requires less maintenance, and offers high performance.
Application
Sewage sludge
Various kinds of drainage
Features
Compared with standard type and high-efficiency type dewatering centrifuges currently used for sewage treatment, the HED type dewatering centrifuge is a new type of dewatering centrifuge that has realized further energy saving.
It has not only reduced CO2 emissions as a result of low power consumption but also requires less maintenance and offers space saving and higher performance.
We have full confidence in recommending this space-saving, lower-maintenance, higher-performance new HED type dewatering centrifuge.
* HED=High performance Ecology Decanter / Hyper-Eco Decanter
Energy saving

The HED type dewatering centrifuge uses a rotary cylinder that has been ideally designed for the balance between the water load and solid matter, which allows reduction in power consumption (by 30 to 50% compared to conventional types) and CO2 emissions.

Space saving

The vertically installed motor contributes to a 30 to 50% reduction of the required installation space for the dewatering centrifuge.

Reduced chemical charging

The polymer coagulant can be reduced.

Higher performance

The newly designed rotary cylinder has realized a balance between the water load and solid matter and it prevents the separate liquid from being stirred. It also contributes to improving the water content and the recovery rate of the separate liquid.

Reduced repair costs

The ultrafine sintered tungsten carbide tiles used at the end of the dewatering centrifuge conveyor significantly slow the progress of wear, allowing to decrease the frequency of repairs and considerably reduce repair costs.
Inquiries about machinery and equipment business
Overseas Sales Business

(3)3442-5157