Products Information
High-speed continuous dissolving device for polymer
High-speed continuous dissolving device for polymer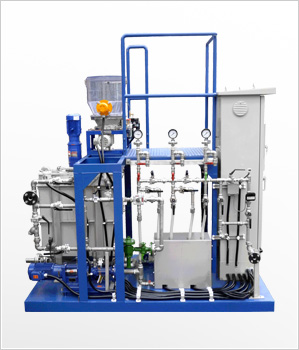 This equipment melts the polymer coagulant at quickly, stably, efficiently, and continuously.
Application
Features
This equipment melts the powder polymer coagulant at high speed, finely, and continuously. The powder polymer coagulant is fed to the mixing tank by the volumetric feeder and mixed with water into a liquid. The liquid is fed to the vortex mixer inside the mixing machine by the chemical feeding pump and transformed into a solution at high speed. The equipment is provided with controls that ensure stable, continuous melting. (Patent acquired)
Melting method in which the special mixing blades of the vortex mixer mounted inside the equipment rotate at high speed and the coagulant is depressurized, pressurized, and mixed.
Efficient, high-speed, and continuous melting is realized by forming a vortex.
Energy-saving and compact design
Can melt only the required quantity of coagulant.
Inquiries about machinery and equipment business
Overseas Sales Business

(3)3442-5157