Products Information
PTM Decanter Centrifuge (General Purpose)
PTM Decanter Centrifuge (General Purpose)
Dewatering Centrifuge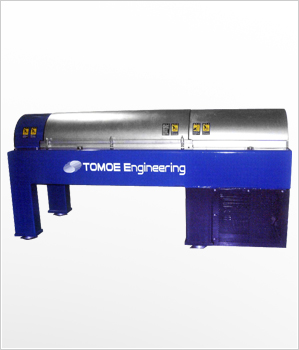 This screen is capable of continuously separating impurities and ensuring stable performance for a long period. It is also easy to operate and can be operated unattended. It has achieved significant cost effectiveness and cost reduction. Designed to save space, this screen requires less installation space.
It is used mainly for separation of liquid-liquid mixtures, including separation and dehydration of solid matter, purification and separation of liquid, and classification of solid matters for solid-liquid mixtures, and it ensures efficient treatment of any kind of substance.
Application
Titanium oxide
SiC
Sodium alginate
Carbon
Abrasive material
Clay
Zeolite
Palm oil
Features
Safe design without exposed parts.

Although it is compact, the drive system is thoroughly covered. We have ensured safe compliance with ISO 12100.

The dehydration equipment is downsized.

The vertical type drive contributes to the considerable reduction of both installation space and mass compared with conventional centrifugal separators.

No frame is required, and the construction cost is reduced.

The construction cost can be reduced because, in addition to the space-saving design, the high frame (which is required for conventional centrifugal separators) is no longer necessary.

Easy maintenance.

The vertical mounting motor can be accessed from any direction of the centrifugal separator, and maintainability has been improved.

It can serve as simple, flexible equipment.

The centrifugal separator and the frame are integrated, and the motor is incorporated into them. The conveyance direction and layout of the dehydrated solid matter conveyance equipment can be configured freely.
Inquiries about machinery and equipment business
Overseas Sales Business

(3)3442-5157