Products Information
JWC Muffin Monster、Channel Monster (Grinder for Inpurities)
JWC Muffin Monster、Channel Monster (Grinder for Inpurities)
Crush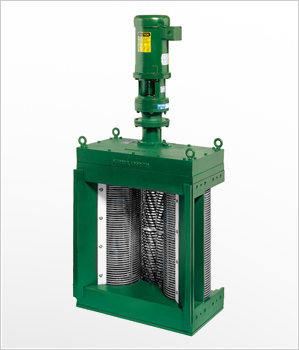 The two-shaft rotary shear type grinder is a high-performance grinder, with more than 10,000 units delivered to customers all over the world. An optimum grinder for the required treatment capability can be selected from a full line of models, including in-line type (to be mounted on piping) and in-channel type (in pumping stations or inflow water channels).
Application
Sewage treatment
Wastewater treatment
Other
Features
Higher treatment efficiency will be achieved by a full line of grinders that can adapt to various conditions and have unparalleled grinding power.
In-line type

Sludge withdrawing systems of initial sedimentation and thickeners, withdrawing, circulation systems, etc. of digestion tanks, sludge thickener systems, dehydrator systems

In-channel type

Pumping station equipment, grit catcher equipment, etc.
Inquiries about machinery and equipment business
Overseas Sales Business

(3)3442-5157