Products Information
TRH Decanter Centrifuge (For Resin Process)
TRH Decanter Centrifuge (For Resin Process)
Centrifuge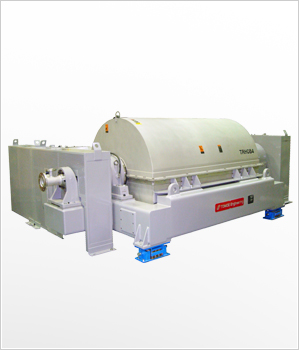 TRH Decanter Centrifuge (For Resin Process) is a centrifugal separator with extremely high functions and it can meet various needs relating to resins.
Tomoe Engineeering's super decanter was developed based on the practical experience and technology we have accumulated over nearly a half century. Its distinguished performance is highly acclaimed not only in Japan but also overseas. In the chemical industry, it supports the dehydration of a wide variety of synthetic resins, such as polyvinyl chloride resin (PVC) and polystyrene.
Application
Polyvinyl chloride resin (PVC)
Polystyrene
Vinylidene chloride resin
Polyphenylene sulphide
Polyvinyl alcohol
Polyvinyl butyral
Features
The original beach structure reduces the water content of dehydrated cake.
Treatment capability is improved by increasing the rigidity of the screw conveyor and adopting a high-torque gearbox.
Crystal cleaning can be performed with high efficiency.
Advanced CIP systems are possible. Substance types can be quickly switched.
Torque control can keep the separation performance of the centrifugal separator constant, regardless of the grades of substances.
Even toxic and volatile substances can be treated in the hermetic decanter.
An oil circulation device can be adopted for the gearbox to improve the treatment capability of the centrifugal separator and the durability of the gearbox. A forced lubrication type gearbox is also adopted to maintain the high reliability of the gearbox even during continuous high-load operation.
Inquiries about machinery and equipment business
Overseas Sales Business

(3)3442-5157