Products Information
TRV Vertical Decanter Centrifuge
TRV Vertical Decanter Centrifuge
Centrifuge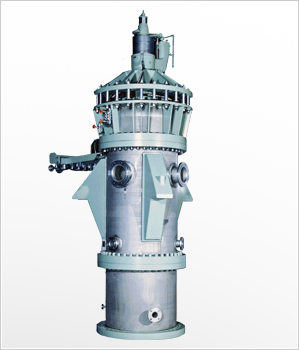 TRV Vertical Decanter Centrifuge is a vertical decanter centrifugal separator with distinguished separation performance for organic solvents and in high-temperature high-pressure environments.
Its vertical structure using a mechanical seal ensures thorough hermeticity. Its pressure-resistant structure also allows it to separate substances even under high pressure. Requiring less installation space is another advantage of the vertical decanter type centrifugal separator. It is designed to perform efficient separation even under severe conditions and can demonstrate outstanding performance in deliquoring of resins, solid-liquid separation of slurry containing organic solvents, collection of catalysts, coal liquefaction, and solid-liquid separation of heavy oils and waste plastics at high temperature and high pressure in chemical factories.
Our vertical decanters are adopted by plants manufacturing terephthalic acid (the material for items such as PET bottles, and synthetic fibers) in South Korea, Taiwan, Indonesia, Thailand, India, China, and other countries.
Application
Terephthalic acid
Polypropylene
Polyethylene
Polyacetal
Catalyst
Protein
Features
This vertical centrifugal separator uses a mechanical seal to ensure an advanced hermetic structure.
Because of its pressure-resistant structure, it can separate substances even under a high pressure.
This centrifugal separator requires less installation space than horizontal centrifugal separators.
The HT type centrifugal separator is capable of performing treatment at high temperatures up to 400°C.
An oil circulation device is adopted for the gearbox to improve the treatment capability of the centrifugal separator and the durability of the gearbox. The high reliability of the gearbox can be maintained even during continuous high-load operation.
Inquiries about machinery and equipment business
Overseas Sales Business

(3)3442-5157