Products Information
TSM Type dewatering centrifuge
TSM Type dewatering centrifuge
Centrifuge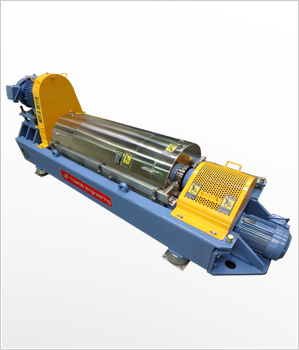 The TSM type centrifugal separator is a dehydration type separator that saves labor, resources, and energy, and the TBD type centrifugal separator is a condensation type separator.
Application
Private sewage system sludge
Film treatment sludge
High-load sludge
Sludge after residue removal
Community plant sludge
Refuse leachate sludge
Rural community wastewater sludge
Livestock wastewater sludge
OD sludge
General industrial wastewater sludge
Digested sludge
Drinking water sludge
Features
Our centrifugal dehydrators and condensers have been widely used in sewage treatment plants for the purpose of reducing the volume of sludge.
Unlike large equipment for sewage treatment plants, this TSM type centrifugal dehydrator is designed as a centrifugal separator for small and medium-scale treatment plants, such as night soil treatment plants, rural community wastewater treatment facilities, refuse disposal sites, livestock wastewater treatment facilities, and community plants. TSM stands for "Three Save Mechanism," which means that it saves labor cost, resources, and energy.
Downsizing

As a result of efforts to reduce installation space and the adoption of a common frame, this centrifugal separator has achieved a reduction of about 30% in size compared with conventional centrifugal separators.

Low noise

Noise has been reduced by improving the rotary bodies and the drive-related systems.
Using a sound-proof cover as an option can reduce the noise level to below 80 dB (Scale A).

Easy to install

Little time is needed to install the centrifugal separator because it uses the minimum necessary number of anchor bolts.

Considerably reduced power consumption

The centrifugal separator has achieved a 20 to 40% reduction in power consumption compared to conventional centrifugal separators.

Considerably reduced repair costs

Tile chips with outstanding wear resistance are used for the screw conveyor. They make the centrifugal separator more wear-retardant than conventional centrifugal separators, resulting in considerably reduced repair costs. They also use fewer consumables than conventional centrifugal separators.

High dehydration and condensation performance

The newly designed dehydration and condensation units have achieved a low water content and a high recovery rate in the dehydrator, as well as a higher concentration and high recovery rate of thick sludge in the condenser.
Inquiries about machinery and equipment business
Overseas Sales Business

(3)3442-5157