Products Information
Apply Ceramic to Worn Parts of Jigs
Apply Ceramic to Worn Parts of Jigs
Description
We can provide long-life, superior-productivity, recyclable and low-cost product with short lead time.
Characteristics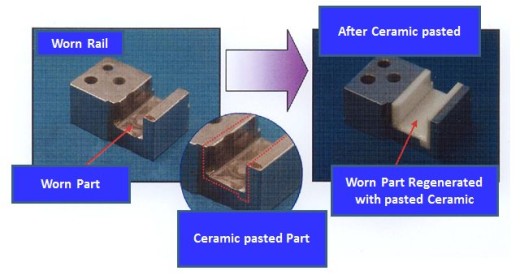 ①Improvement of productivity; factory operating ratio
Achieve cost reduction by reduction of scrap metal from transmission jig, improve productivity by reducing transmission error, and enjoy longer operation life of jig.

②Quality Improvement
Improve productivity and yield rate by preventing chuck error and product damage (Micro Crack) caused by worn chuck jig.

③Weight Reduction of Equipment
Reduce equipment weight by applying light aluminum as base metal.

④Recyclable; Ecologically-Friendly
Can reduce CO2 emission by regenerating jig and with recyclable design.
Inquiry
Electronic Materials Dept.
19F Osaki Bright Core,
5-15, Kitashinagawa 5-chome, Shinagawa-ku, Tokyo 141-0001, Japan
TEL:(3)3442-5143 FAX:(3)3442-5175