Our advantages and
characteristics as a trading firm
Our advantages and characteristics as a trading firm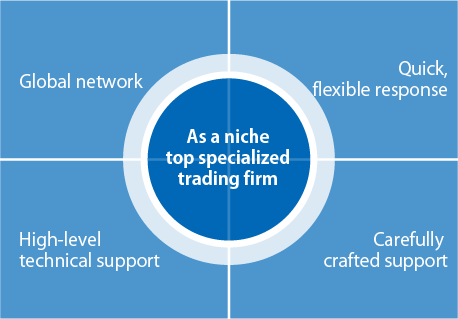 Tomoe Engineering Co., Ltd. was founded by Shiro Yamaguchi in 1941.
A prominent manufacturer of centrifugal separators, Tomoe Engineering's chemical products business traces back to 1952, when we started the import of synthetic resins, including polyethylene, from the American company Union Carbide Corporation, with which we had enjoyed a close relationship before World War II. Since then, Tomoe Engineering has expanded our line of products to chemical products, industrial materials, high-function inorganic materials, metals, electronic materials, and more in response to customer needs.
In 1989, a joint venture was founded in the Shenzhen area of China, ahead of competitors for the production of synthetic resin compounds. In 1991, the Hong Kong branch (now Tomoe Engineering (Hong Kong) Co., Ltd.) opened to make inroads into the Hong Kong and Shenzhen areas.
In 2012, the Kunshan Office and Tomoe Trading (Shenzhen) Co., Ltd. were founded and then expanded its trading firm operations from Hong Kong to China. In 2015, Tomoe Trading (Thailand) Co., Ltd. was established in Bangkok, Thailand, and began trading firm operations. Recently, Tomoe Engineering has been actively committed to promoting overseas business operations.
As a specialized chemical products trading firm, Tomoe Engineering has achieved a niche top chemical products business that sells advanced technology products and products with high added value.
Tomoe Engineering can offer not only chemical products, a worldwide network, and long years of abundant experience and knowledge about chemical products, but also a wide variety of information and services as a technical supporter.
Our chemical products business will further strive to help our customers create added value by providing distinguished products, information, and services.