Overseas business introduction
Overseas business introduction
Overseas business introduction
Tomoe Engineering was the first Japanese company to start, grow, and promote business operations in the Southern Chinese area of Huanan.
We are expanding our business both in Thailand and in the Southeast Asian market.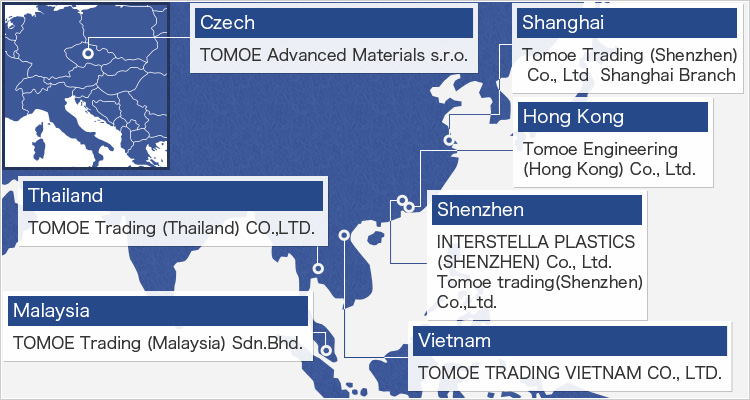 To keep up with the diversifying businesses in China and stay ahead of our competitors, Tomoe Engineering started a synthetic resin business in the Shenzhen area of China, in 1989. Since then, we have supplied processing services and also worked proactively to establish and assist in the establishment of colored compound production, large injection molding, and small precision molding companies.
Tomoe Engineering (Hong Kong) Co., Ltd., which was incorporated from our branch in Hong Kong, also supports the abovementioned business operations and supplies devices, molds, and synthetic resin molded products to Japanese companies operating in Hong Kong.
At the end of 2015, a locally incorporated company was founded in Thailand. Tomoe Engineering will take AEC (ASEAN Economic Community) as an opportunity to expand its business with Southeast Asian countries.
Tomoe Engineering (Hong Kong) Co., Ltd.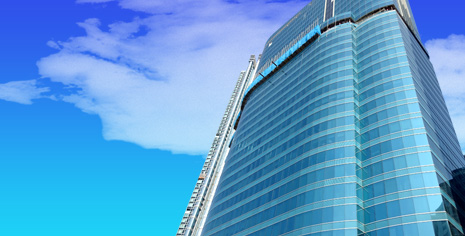 Foundation

October 2004

Capital

HK$10,000,000
Handling of general industrial products, including raw materials for synthetic resins, additives, molded products (injection molding, blow molding, etc.), molds for large special molded products, and molding machines, and electronic parts, including mounting on printed circuit boards.
Our production base of OA appliances, which initially targeted the Shenzhen Special Economic Zone of Hong Kong, now covers the whole Huanan (South China) area. Tomoe Engineering founded the locally incorporated company Tomoe Engineering (Hong Kong) Co., Ltd. in October 2004, and it took over all business operations from the previous Hong Kong office and started sale activities on November 1, 2004. Tomoe Engineering is working to establish a Japan-centric network under the motto of providing accurate, up-to-date information in response to requests from manufactures of set products and manufacturers of parts.
INTERSTELLA PLASTICS (SHENZHEN) Co., Ltd.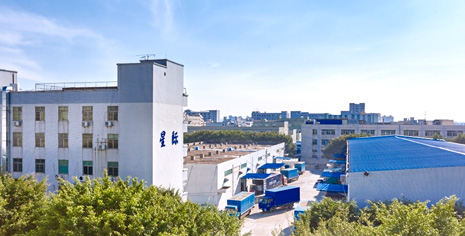 Foundation

October 2000

Capital

US$4,200,000
Contract processing of colored compounds for general-purpose and engineering plastics and manufacture and sale of master batches, etc.
Our products have long been used and acclaimed by Japanese manufacturers of automobiles, OA appliances, telecommunications appliances, home electric appliances, and more.
Our advanced production engineering and control system has received great praise from Japanese manufacturers, and we are actively committed to developing and manufacturing compound products that are difficult to produce. Tomoe Engineering has ISO 9001 and ISO 14001 certificates and has a sterling reputation with the city government of Shenzhen as an advanced technology or high technology company.
*In 1989, Tomoe Engineering founded the first Japanese compound manufacturing company in Mainland China. It was later renamed Interstella Plastics (Shenzhen) Co., Ltd. and is known to Chinese customers as "Stella."
TOMOE TRADING (SHENZHEN) CO.,LTD.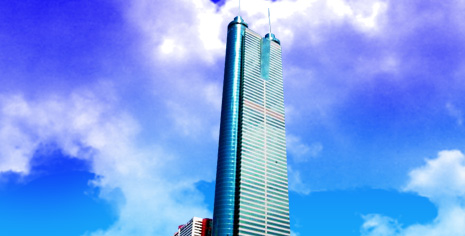 Foundation

September 2012

Capital

5,000,000 Chinese yuan
Handling of raw materials for synthetic resins, molded products, molds, equipment and machinery, including molding machines, recycling and waste reduction, inorganic materials, additives, raw materials for chemical products, functional materials, etc.
In order to do business in Chinese yuan, the company was founded as an affiliated company fully owned by Tomoe Engineering (Hong Kong). The company leverages its long-established relationships with Chinese manufacturers and suppliers to produce high-quality products in China and export them to areas such as Southeast Asia.
TOMOE Trading (Thailand) CO.,LTD.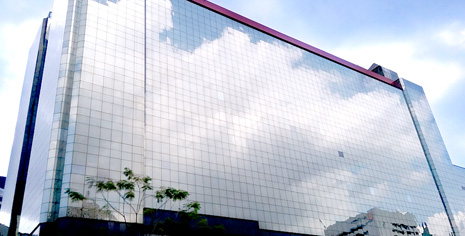 Foundation

December 2015

Capital

16,000,000 Thai baht
Handling of general synthetic resins, industrial materials, chemical products and materials, functional materials, electronic materials.
Tomoe Trading (Thailand) Co., Ltd. does business in Thailand and plans to do business with Southeast Asian countries.