What is centrifugal
separation?
About decanter centrifuge
About decanter centrifuge
Features of decanter centrifuge
Flexibly manageable to slurry's condition changes
Easy operation
Simple maintenance
Continuous processing is possible
Large-scale processing is possible
Plenty of sales results
Stable dewatering ability
Smaller installation space
Smaller number of auxiliary appliances
Hermetic structure for freeing from offensive odors and toxic gases
Decanter's separation mechanism
(1) Gravitational field

In gravitational field, liquid gathers in the lower area of bowl inside.
(2) Centrifugal force field

In centrifugal force field, liquid gathers all around bowl inside and solid is settled.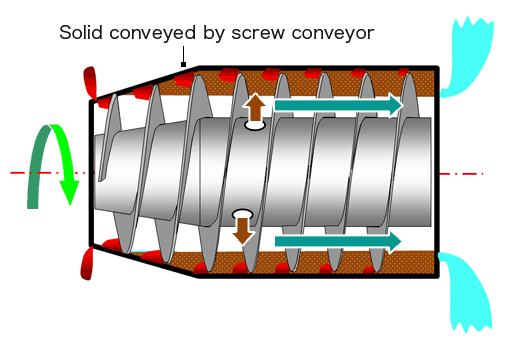 Vertical decanter
Horizontal decanter
(simplified sealing is possible)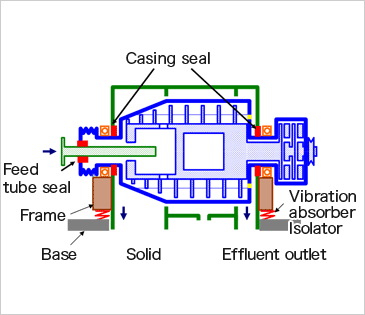 Sealed by 3 positions
Contact with the treated substance occurs.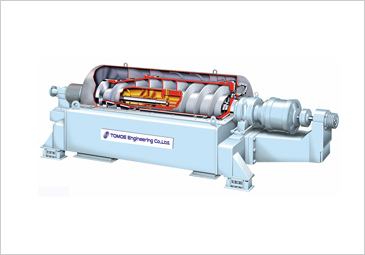 Horizontal decanter is able to be separated substances continuously and ensure stable processing for a long time. It can be operated easily and unattended operation is also possible. It has realized economical operation and dedicates cost reduction. It requires just smaller installation space owing to its space-saving design. It is used mainly for separation for solid-liquid mixtures including separation for dewatering solid, clarifying liquid, particle classification and even possible for liquid-liquid mixtures with very efficient processing in any cases
Vertical decanter
(pressure-resistant sealing is possible)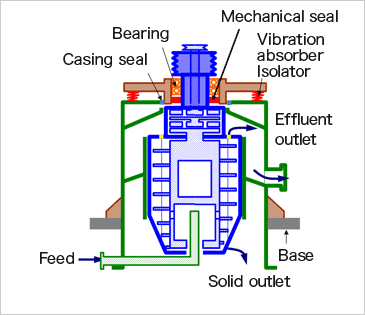 Single sealed design
Possible to withstand up to 1 MPa (10 kg/cm2).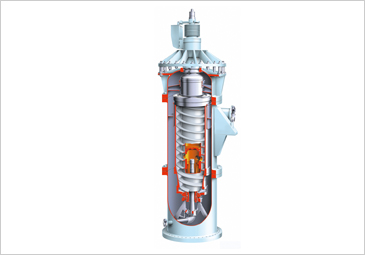 High air-tightness is available because of its vertical design with mechanical seals. In addition, its pressure-resistant structure enables slurry separation even at high pressure condition. Smaller installation space is another advantage. Since it is designed to perform efficient separation even under severe conditions, it can perform outstanding processing for solid-liquid separation, such as dewatering of resins, slurries containing organic solvents, recycling catalysts, coal liquefaction, heavy oils and wasted plastics at high temperatures under high pressures in chemical factories, etc. HT type centrifuge workable at high temperatures up to 400°C has been also introduced recently.