Products Information
BN ( Boron nitride )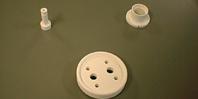 BN ( Boron nitride )
Description
SINTEC's hot pressed boron nitride: sophisticated thermal resistive ceramics
Description
Ideal Boron Nitride for insulators and heat sinks
Superb thermal shock resistance at a high temperature
High purity grades are available for the semiconductor application.
Also HIP processed grades are superior in dimensional stability and strength.

Features
Tomoe Engineering imports only quality SINTEC BN blocks and supplies machined products to customer's satisfaction immediately upon request.

Related Website
Sintec Keramik GmbH & Co. KG
http://www.sintec-keramik.com
Inquiry
Advanced Materials Dept.
19F Osaki Bright Core,
5-15, Kitashinagawa 5-chome, Shinagawa-ku, Tokyo 141-0001, Japan
TEL:(3)3442-5142 FAX:(3)3442-5175