Products Information
Duocel Aluminum Foam (ERG Aerospace)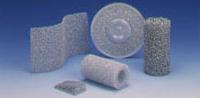 Duocel Aluminum Foam (ERG Aerospace)
Description
Duocell Aluminum Foam from ERG Aerospace
Description
Duocell Aluminum Foam is the best heat exchanger. Open-celled aluminum foam has a high strength-to-weight ratio and a large surface area to volume ratio.

Features
Duocel is ideal material for gas diffusers/mixers, liquid/gas separators, impact absorbers and compact heat exchangers.
Products in10, 20 and 40 ppi porosity are available (ppi = pores per linear inch).

Related Website
Erg Aerospace
URL: http://www.ergaerospace.com
Inquiry
Advanced Materials Dept.
19F Osaki Bright Core,
5-15, Kitashinagawa 5-chome, Shinagawa-ku, Tokyo 141-0001, Japan
TEL:(3)3442-5142 FAX:(3)3442-5175