Products Information
Capillary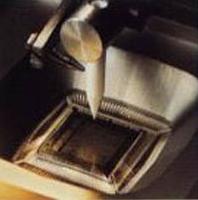 Capillary
Description
Recognized as the world's leading manufacturer of capillaries for fine-pitch ball bonding applications.
Description
Recognized as the world's leading manufacturer of capillaries for fine-pitch ball bonding applications, K&S also supplies standard and custom capillaries to support bonding processes ranging from 250μm to 35μm pad pitch.

Features
60μm
This widely used K&S capillary has gained 90% of the worldwide market. Backed by years of field testing, the 60μm capillary delivers high repeatability, industry leading tolerances, and unique manufacturing capabilities.

50μm
K&S provides comprehensive product and process support for Ultra Fine Pitch and Fine Pitch applications. The 50μm capillary is a superior bonding tool with industry-leading tolerances for the most exacting specifications. The K&S 50μm capillary is supplemented by a proven process recipe for the 8028-PPS and is already being qualified for mass production processes by our customers.
K&S offers Extra Resolution (ER) for Hole and CD dimensions for applications of 50μm and below. This new feature enables customers to define their required Hole and CD dimensions by 0.5 tenth of a mil (replacing 1 tenth today). This 0.5 tenth nominal dimension interval may be specified for more flexible capillary designs and will enable additional degree of freedom when considering Hole to CD difference to support wider wire diameters, essential for the long wire span applications (such as fine pitch PBGA and other advanced packages).

40μm and below
Leveraging K&S extensive experience in creating tools for ultra-fine pitch processes, K&S Application Lab has developed a new generation bonding capillary designed to meet the most demanding ultra-fine pitch application.

SIGMA™capillary
· Lower STDV for 1st bond diameter - the SIGMA decreases 1st bond deviation by as much as 40%. This results in fewer bond-off-pad occurrences, thereby increasing yield.
· Smaller bonds for the same hole and CD dimensions - the SIGMA reduces 1st bond diameter by approximately 2μm.
· Lower ultrasonic energy process parameters - the SIGMA capillary requires up to 50% less US power. Improved ultrasonic control also results in less wire sway and fewer kinks, thereby increasing loop stability.
· Higher shear per area - improved ultrasonic control achieved by the SIGMA increases 1st bond shear force per unit area by up to 0.8 grams/ mil2 at a low energy level.
· Increased molding yields - the SIGMA enables the use of thicker wires compared to regular fine-pitch capillary bonding. This, in turn, ensures higher wire durability throughout the molding process.
Inquiry
Electronic Materials Dept.
19F Osaki Bright Core,
5-15, Kitashinagawa 5-chome, Shinagawa-ku, Tokyo 141-0001, Japan
TEL:(3)3442-5143 FAX:(3)3442-5175