Products Information
Tac Plate (Gel adhesive sheet)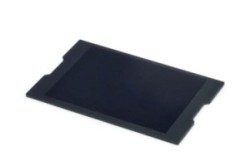 Tac Plate (Gel adhesive sheet)
Description
Adhesiveness and elasticity of the sheet soften impact, hold and protect various industrial parts safely.
Features
· Two types of plate are available-Low Out-Gassing Clean Type and Heat/Chemical Resistance Type.
· Clean Type is made from low out-gassing electric conductive PC resin plate and low out-gassing non-silicone adhesive plate.
· Heat/Chemical Resistance Type is made from PEI resin plate and silicone adhesive sheet.
· Wide range of industrial parts are available with wide range of adhesive force of sheets.
· Logo printing of different line pattern is available.


Material
Tac Plate Introduction [1page]
Inquiry
Electronic Materials Dept.
19F Osaki Bright Core,
5-15, Kitashinagawa 5-chome, Shinagawa-ku, Tokyo 141-0001, Japan
TEL:(3)3442-5143 FAX:(3)3442-5175