Products Information
Steel Belt Conveyor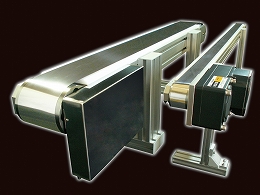 Steel Belt Conveyor
Description
This is used for transport of products such as precision parts and foodstuff & provisions that would need to avoid effect from belt deterioration & damage, particle generation, and electrostatic charge.
Exchange Steel Belt can be purchased from 1 unit.
Characteristics
· Simple construction with easy exchange of belt and adjustment of meandering
· Easy to change line velocity under use of scale of speed at 1:20
· Easy installation to equipment and installation of legs and work guide sensor, with aluminum construction materials being applied.
Inquiry
Electronic Materials Dept.
19F Osaki Bright Core,
5-15, Kitashinagawa 5-chome, Shinagawa-ku, Tokyo 141-0001, Japan
TEL:(3)3442-5143 FAX:(3)3442-5175