Products Information
Steel Belt for Oil Skimmer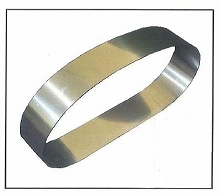 Steel Belt for Oil Skimmer
Description
With the use of Steel Belt for Oil Skimmer, it is possible to bring down total cost from performance and price perspective in comparison with the conventional belt. This does not require any remodeling of existing equipment (pulley, etc.) and allows easy switching from your current belt used.
Application
| | |
| --- | --- |
| By installing to Oil Skimmer, it allows you to recover unnecessary mixed waste oil from cutting oil agent of the working machine or machining equipment. | |
Characteristics
There are following features compared to resin belt:

· High oil recovery from good metal & oil compatibility
· Possible to use under high temperature
· Long belt life by limited deterioration from oil
* Oil Skimmer only can be sold.
Inquiry
Electronic Materials Dept.
19F Osaki Bright Core,
5-15, Kitashinagawa 5-chome, Shinagawa-ku, Tokyo 141-0001, Japan
TEL:(3)3442-5143 FAX:(3)3442-5175