Environment conservation
activities
Environment conservation activities
Commitment to the environment
Under the management policy "Provide advanced technology and products of superb quality and contribute to society," Tomoe Engineering considers the conservation of the global environment to be one of the most important issues in creating an abundant future for human beings, and the whole company works to conserve the environment and contribute to society.
Environment guidelines
Accurately keep track of the environmental impact of the activities of the two business fields—(1) design, manufacture, and sale of machinery, equipment, and devices for industrial and environmental applications and (2) export, import, and sale of raw materials and products for industrial use—of our products and services, and strive to achieve continual improvement and prevent environmental contamination by setting environmental objectives, goals, and action plans.
Observe related environmental laws and regulations and other agreed-upon requirements, establish internal standards to the extent possible, and commit ourselves to environmental conservation.
Devote ourselves to the following as priority issues to reduce effects on the environment:

(1) Reduce waste by promoting recycling of waste.
(2) Promote energy saving in our activities, and products.
(3) Make effective use of natural resources to reduce the amount used.
Disclose our environmental guidelines to the public as requested, and convey them to all employees and everyone working for us.
ISO14001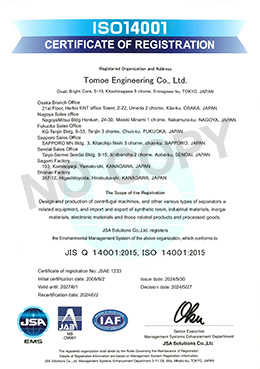 ISO14001 Registration
Tomoe Engineering received ISO 14001 certification and was registered by the Japanese Standards Association on June 2, 2006.
As you may know, ISO 14001 is an internationally accepted standard concerning environmental conservation. ISO 14001 certification and registration means that Tomoe Engineering's environmental conservation efforts are considered to be compliant with international standards.
Some common topics in environmental conservation are reducing waste and saving paper and other resources and energy, including electricity. For corporate environmental conservation, however, greater importance is placed on activities to reduce the environmental burden on customers rather than on what the company can do directly. For example, Tomoe Engineering helps customers reduce energy consumption by providing environmentally friendly products and develops and sells raw materials to replace substances that adversely affect the environment. These activities not only contribute to environmental conservation but also are important themes for the expansion of our businesses.
Tomoe Engineering is determined to further strive to accomplish higher business performance and environmental management with the keyword of "environmental conservation."
| | |
| --- | --- |
| Date of certification and registration | June 2, 2006 |
| Applied standards | JIS Q 14001: 2015; ISO 14001: 2015 |
| Scope of registration | Design and manufacture of separators and devices, mainly centrifugal separators; and export, import, and sale of synthetic resins, industrial materials, inorganic materials, electronic materials, foreign liquors, related products, and processed products |
| Applicable business offices | Head Office, Osaka Branch Office, Nagoya Sales Office, Fukuoka Sales Office, Sapporo Sales Office, Sendai Sales Office, Sagami Factory, Shonan Factory |
| Registration No. | JSAE1233 |
| Certification and registration institution | Japanese Standards Association (JSA) |